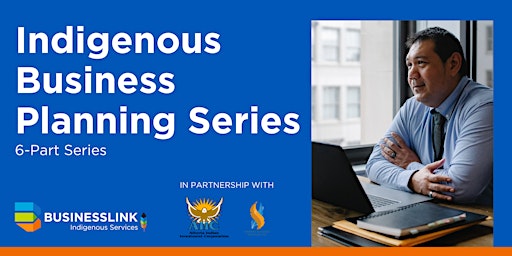 Join Business Link Indigenous Services, Winfire Business Services and Alberta Indian Investment Corporation for a 6-part workshop series on Business Planning! This series will use Business Link's Indigenous Business Planning Workbook as a guided template for your business planning success.
Please be advised that when registering for this event you will be committing to the full 6 workshops. Those who attend the entire series will receive a certificate of completion issued by Business Link Indigenous Services and Alberta Indian Investment Corporation…a great addition to the appendices section of your business plan!
STEP 1: February 8 (1:30-3:00 PM)
Finding the right business idea;
Evaluating your Idea;
Creating a preliminary vision of your business
STEP 2: February 10 (1:30-3:00 PM)
Learning about your industry and market;
Learning about your customers;
Analyzing your competition
STEP 3: February 15 (1:30-3:00 PM)
Deciding what the business will do, defining the image of your business;
Defining in more detail your products and services;
Business process and procedures;
Considering the distribution of your products and services;
Making location decisions;
Developing a promotional strategy
STEP 4: February 17 (1:30-3:00 PM)
Deciding how the business will operate;
Establishing human resource requirements;
Developing an operational plan;
Handling legal requirements
STEP 5: February 22 (1:30-3:00 PM)
Working with financial plans;
Determining start-up costs;
Forecasting cash flow, creating income statements and balance sheet projections
STEP 6: February 24 (1:30 – 3:00 PM)
Writing the business plan;
Formatting the business plan;
Putting the pieces together
Please reach out to is@businesslink.ca for any questions you may have regarding this workshop series.
Please note: This program may be recorded